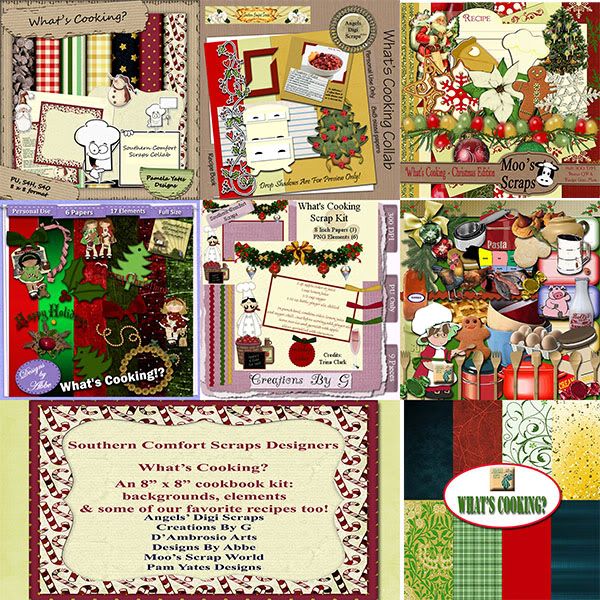 Southern Comfort Scraps Designers Present What's Cooking?
Angels Digi Scraps, Creations By G, D'Ambrosio Arts, Designs By Abbe, Moo's Scrap World, and Pam Yates Designs have created an 8" x 8" cookbook starter kit for you with a seasonal flair. Use it to scrap your favorite recipes of the season and throughout the year.
Included are 37 papers; some are Christmas themed but others could be used any time. There are 88 elements, some of them specific to Christmas, while most will fit any of the recipes you might want to scrap.
In addition, we have each shared with you a favorite recipe or two. You can find this collab in the store here:
http://southerncomfortscraps.com/index.php?main_page=product_info&cPath=90&products_id=736
You can purchase this kit for $6.00 or you can get it FREE by purchasing $6.00 worth of products anywhere in the store and sending in an e-mail with your receipt number to
southerncomfortscraps@gmail.com
. We will then send you a coupon to get the kit free.
This offer is good through December 31, 2010. After that time, the designers may choose to offer their portion in their shop or it might disappear entirely! So get your copy now.
Happy Scrappin',
Jennifer